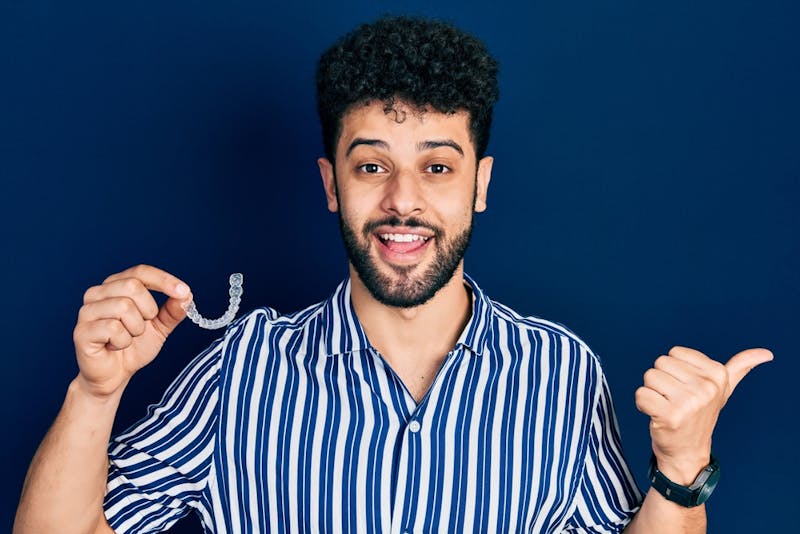 Invisalign is quickly becoming one of the popular ways for teens and adults to straighten their teeth and correct a myriad of other bite and orthodontic issues. Invisalign treatment uses a different approach to straighten teeth. Rather than using metal braces, the trained dentist uses a series of clear, plastic, custom-made aligners to gradually move your teeth to the desired position.
This method is as effective as straightening your teeth with traditional braces. Moreover, it offers many benefits, including:
Enhanced comfort – no brackets or wires to irritate your mouth
Removable aligners – so you can eat your favorite foods and maintain oral hygiene
Discreet treatment – the clear aligners are nearly invisible
Lower risk of dental emergencies so you spend less time in the dentist's chair
If you have an orthodontic issue, such as crooked or crowded teeth, misaligned bite, or over/under-bite, your dentist will evaluate your teeth to determine whether you're a good candidate for Invisalign.
Invisalign Treatment Process
First, the dentist will take a detailed scan of your teeth, photographs, and a full-mouth X-ray that will be used to design your Invisalign treatment plan and custom aligners. When your aligners are ready, you will be invited for your next appointment for fitting and interproximal reduction (IPR) or slenderizing (slimming) to provide a good teeth alignment. Your Invisalign specialist will also instruct you on how to insert and remove them, as well as how to care for your aligners.
Each set of aligners is worn for two weeks, so you will be given the next 3-4 sets of aligners in your treatment plan to change at home. Invisalign monitoring visits are scheduled every 6-8 weeks to assess the progress of your treatment and receive the next set of aligners. The number of scheduled visits depend on the number of aligner sets prescribed in your individual treatment plan.
When your treatment is complete, the Invisalign specialist will examine your teeth to determine if further refining (minor bite adjustments) should be done. If the outcome is as projected at the start of the treatment, then you only need to wear custom retainers to maintain the new position of your teeth.
Schedule your Invisalign Consultation Today
To find out more about Invisalign treatment in Beverly Hills CA and how it can help to address your orthodontic issues, please visit your dentist or Invisalign specialist today.